Carex are grass-like plants considered by many to be 'too little known and too little used in the garden'. Even though the flowers are not very significant, the foliage easily makes up for that. The soft arching blades range in color from green to gold to blue and even variegated.
Read more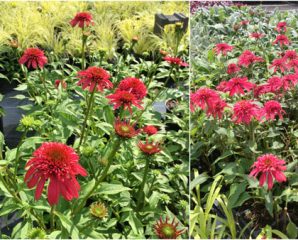 Double scoops in the summer are so satisfying…especially in the garden! Who wouldn't want a Double Scoop Cranberry (Echinacea x)? They are looking beautiful in the yard right now and we have many more that will be potted soon. This plant color pops in the garden. It is a vibrant
Read more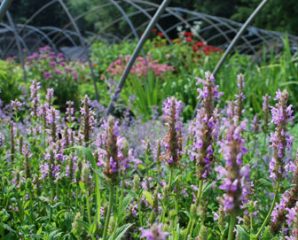 Dan has added an exciting list of new perennials this year including this Catmint. We'll be highlighting them over the next few weeks because, after all, who doesn't want to try something new? Chrysogonum virgatum 'Pierre' (Green and Gold)- Bright green foliage and yellow daisy-like flowers on this native perennial.
Read more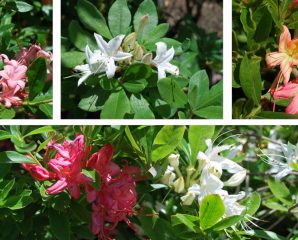 Don't miss out on adding some late color to your spring borders in the form of the deciduous Azaleas. These summer bloomers are an easy sell for their fragrant flowers, attraction for pollinators, and great fall color. Rhododendron 'Pink & Sweet' (top left) Rhododendron viscosum, very fragrant, native cultivar, mildew
Read more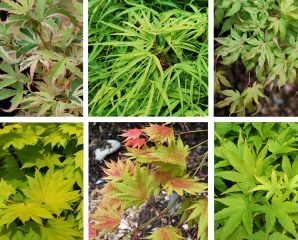 Both sales yards have an excellent selection of Japanese Maples including uprights like the red-leaf 'Bloodgood' and plenty of the dissected weepers like 'Tamukeyama' and 'Viridis', but below are a few upright varieties you should consider: Acer palmatum 'Butterflies' (top left) This Japanese Maple's main feature are the variegated, sometimes
Read more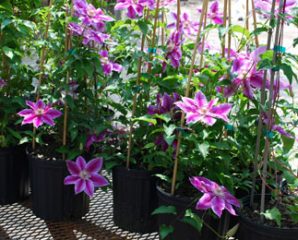 Flowering Vines: Campsis radicans Trumpet Vine – Rapid grower with bright tubular flowers at stem ends in summer. Needs strong support, and room to grow. They have root-like holdfasts that help hold them to any surface. 'Flava', 'Balboa Sunset' & 'Madam Galen' available in 2 and 5 gal. containers. Note:
Read more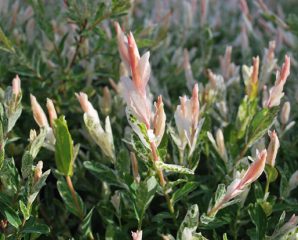 Salix integra 'Hakuro-nishiki' is known by many names: Japanese Dappled Willow, 'Albo-maculata', 'Albomarginata','Fuiji Nishiki', Variegated Willow – they all describe the fast growing, tri-colored Willow that turns heads in any landscape. Yellow catkins appear in April, then pink leaves as seen here, begin to open turning to a dappled mix
Read more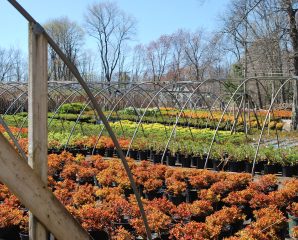 Spiraea is often thought of as a shrub for tough, sunny spots – a filler. Much like the Japanese Andromeda we wrote about a couple of weeks ago, it has a lot to offer throughout the seasons – more than just eating up garden real estate. -One of the earliest
Read more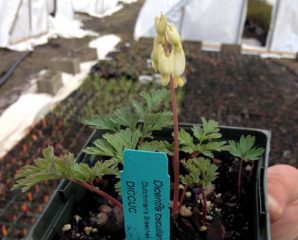 Dan, our perennial propagator, is very excited about the growing selection of native woodland plants including the Spring Ephemerals like the Dutchman's Breeches (Dicentra cucularia) seen here. These perennials take advantage of warming spring soil temperatures and the abundant sunlight available before the tree canopies leaf out. Once they are
Read more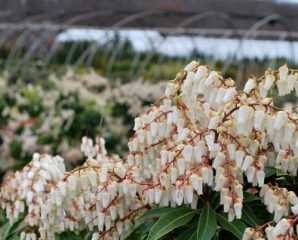 It's hard to get excited about Japanese Andromeda, it's just so common place, but when its features are listed in black & white you realize there aren't many other plants that can measure up to its versatility. -Evergreen that tolerates a good amount of shade -Deer resistant! -Colorful emerging foliage
Read more