When it comes to versatile evergreens you really can't go wrong with Oriental Spruce. The lower branches hold to the ground forming an elegant skirt which makes it a great choice as a stand alone conifer. Planted in groups, if not sited too closely, work great as an accent, and
Read more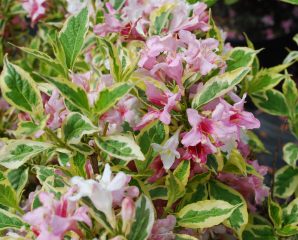 Here's an awesome shrub you probably already know and use, but it's worth being reminded about – Weigela florida 'Variegata'. The variegated foliage is the main attraction and the light pink, spring flowers are the added bonus. It's a rounded shrub that doesn't require a lot of pruning. Growing 3′
Read more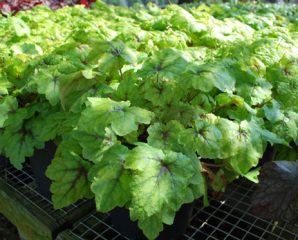 If you cross Heuchera with Tiarella you get Heucherellas! Foamy Bells, as they are commonly called, are a growing group of perennials planted mainly for their foliage effect. This variety, 'Catching Fire' has an impressive show in the garden with its large lime green leaves and cherry red center veining.
Read more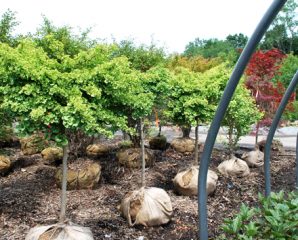 Dwarf Ginkgo biloba 'Troll' are super easy conifers (yes, conifers) to tuck into the landscape adding fantastic texture, an interesting leaf form and pure gold in fall. Plant them in borders or foundation plantings without worrying about them over-growing the site as it's a slow grower and stays quite compact.
Read more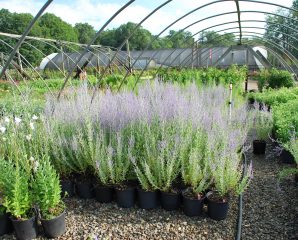 Common name: Russian Sage Size: 3-4′ high 24-30″ wide Interest: Fine blue-gray foliage, airy lavender-blue flowers Culture: Well-drained soil is critical, full sun Time of year: July – September Companion plants: Roses, Coneflowers, Garden Phlox, Ornamental Grasses This is one of those plants that customers love. Planted in large groups
Read more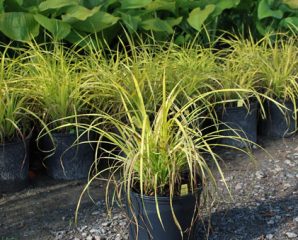 Carex are grass-like plants considered by many to be 'too little known and too little used in the garden'. Even though the flowers are not very significant, the foliage easily makes up for that. The soft arching blades range in color from green to gold to blue and even variegated.
Read more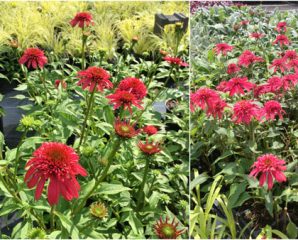 Double scoops in the summer are so satisfying…especially in the garden! Who wouldn't want a Double Scoop Cranberry (Echinacea x)? They are looking beautiful in the yard right now and we have many more that will be potted soon. This plant color pops in the garden. It is a vibrant
Read more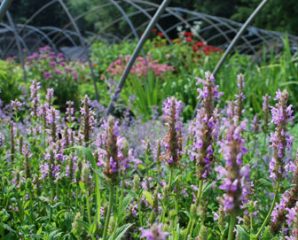 Dan has added an exciting list of new perennials this year including this Catmint. We'll be highlighting them over the next few weeks because, after all, who doesn't want to try something new? Chrysogonum virgatum 'Pierre' (Green and Gold)- Bright green foliage and yellow daisy-like flowers on this native perennial.
Read more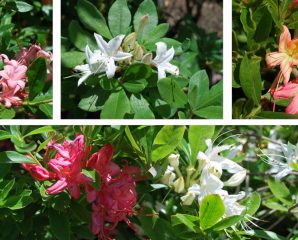 Don't miss out on adding some late color to your spring borders in the form of the deciduous Azaleas. These summer bloomers are an easy sell for their fragrant flowers, attraction for pollinators, and great fall color. Rhododendron 'Pink & Sweet' (top left) Rhododendron viscosum, very fragrant, native cultivar, mildew
Read more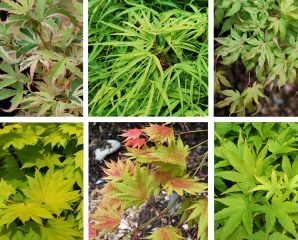 Both sales yards have an excellent selection of Japanese Maples including uprights like the red-leaf 'Bloodgood' and plenty of the dissected weepers like 'Tamukeyama' and 'Viridis', but below are a few upright varieties you should consider: Acer palmatum 'Butterflies' (top left) This Japanese Maple's main feature are the variegated, sometimes
Read more